MEDA Phase 2 Advisory Groups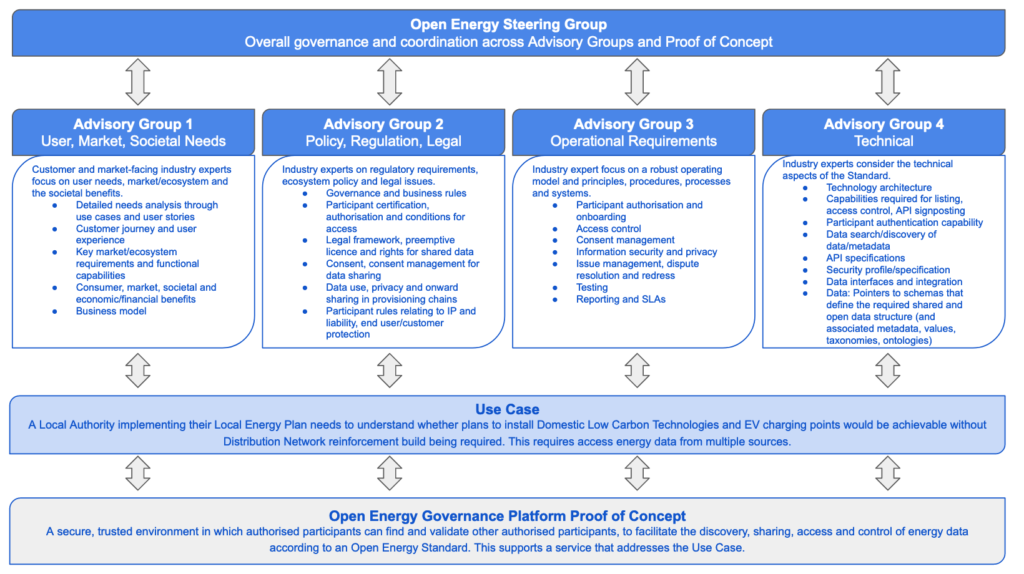 Want to help shape the Open Energy programme?
1) Comment on the outputs from the AGs
2) Express interest in the next phase of our work
As part of our core Stakeholder Engagement, we worked with 4 Advisory Groups containing over 60 experts from across the energy sector. They were supported by a research team.
The terms of reference are published openly, and participants, acting as individual experts, come from backgrounds across the energy sector including:
energy providers,
data providers,
data users,
academia,
local authorities, and
startups.
The Advisory Groups met monthly and reported to a Steering Committee.
Advisory Group members that provided consent for us to publically name them include: Victor Levi, Dhara Vyas, Tim Johnson, David Lee, Michael Wilkinson, Galina Carroll, Laurence Carpanini, Aneysha Minocha, Peter Clive, Laurence Watson, Robbie Morrison, Frank Wales, Rosie McGlynn, Ed Colley, James Johnston, Jamie Taylor, Grant Tuff, Josh D'Addario, Ed Evans, Richard Salmon, Molly Webb, Matt Webb, Maxine Frerk and Jake Verma.
Each Advisory Group had two Co-Chairs, one of whom is deeply embedded within the energy sector, the second of whom has deep data expertise. To ensure alignment between the work being carried out within each Advisory Group, all 8 Co-Chairs met on a weekly basis.